2016 7th International Conference on Economics, Business and Management (ICEBM 2016) is the main annual research conference aimed at presenting current research being carried out. ICEBM 2016 will be held in Sydney, Australia during November 24-26, 2016 by IEDRC. ICEBM 2016 aims to bring together researchers, scientists, engineers, and scholar students to exchange and share their experiences, new ideas, and research results about all aspects of Economics, Business and Management, and discuss the practical challenges encountered and the solutions adopted.
The conference will be held every year to make it an ideal platform for people to share views and experiences in Economics, Business and Management and related areas.
Publication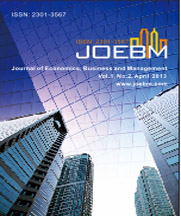 International Journal of Economics, Business and Management (JOEBM)
ISSN: 2301-3567
Frequency: Monthly
DOI: 10.18178/JOEBM
Abstracting/ Indexing: DOAJ, Engineering & Technology Library, Electronic Journals Library, Ulrich's Periodicals Directory, MESLibrary, Google Scholar, Crossref, and ProQuest.

Brief Schedule/Deadline
| Due Date | Item | Description |
| --- | --- | --- |
| Sept. 25, 2016 | Submission Deadline | Authors are supposed to submit their full papers/abstracts to us before the deadline, a possible extension of 3 days be allowed under special circumstances. |
| Oct. 10, 2016 | Acceptance Notification | 'Accept' or 'Reject' decision will be given to the submitted papers on this day or earlier. |
| Oct. 25, 2016 | Registration Deadline | Participants should complete the registration to attend to the conference |
| Nov. 24, 2016 | Arrivial and Registration | Participants are supposed to sign in at the conference venue and collect all the conference materiails at the registration counter on this day. |
| Nov. 25, 2016 | Keynote Speech and Author presentation | The keynote speeches will be given in the morning and authors' presentations will be arranged in different sessions in the afternoon. |
| Nov. 26, 2016 | Author presentation | Authors' presentations will be arranged in different sessions in whole day. |
Technical Committee
| | | | | | | |
| --- | --- | --- | --- | --- | --- | --- |
| | | | | | | |
| Dr. Hiroshi Hasegawa | Dr. Craig Engstrom | Dr. Tomoko Miyakoshi | Prof. Hao Chang | Dr. Chiung-chiuen Chen | Dr. Choosri Banditvilai | Prof. Hiroki Yoshida |
| | | | | | | |
| Prof. Gassim H. Dohal | Prof. Doris Ogdoc-Gascon | Onusa Suwanpratest | Dr. Kai-Li Wang | Dr. Hazlina binti Shaik Md Noor Alam | Dr. Yi Chang Yang | Dr. Rita Anugerah |
| | | | | | | |
| Prof. Etty Puji Lestari | Prof. Renáta Pitoňáková | Assoc. Prof. Valeri Chukhlomin | Assoc. Prof. Chang-Feng Zhou | Senior Lecturer Su Teng Lee | Assoc. Prof. Elżbieta Szymańska | Assoc. Prof. Xiao-Hui Dong |